Promoting Proper Use of Medication
Kyowa Kirin places a priority on providing information to promote the proper use of pharmaceutical products. We believe that it is imperative to promptly share accurate information with patients and medical professionals, who are flooded with miscellaneous information on drugs. In addition to sales activities by medical representatives (MRs), we use multiple channels of communication, including a call center for fielding inquiries on drugs and a website catering to medical professionals, in order to provide timely information in tune with the latest changes in the medical environment. The information collected is passed on to relevant divisions, and measures are taken to "foster" drugs by maximizing their product value while assuring their safety and quality.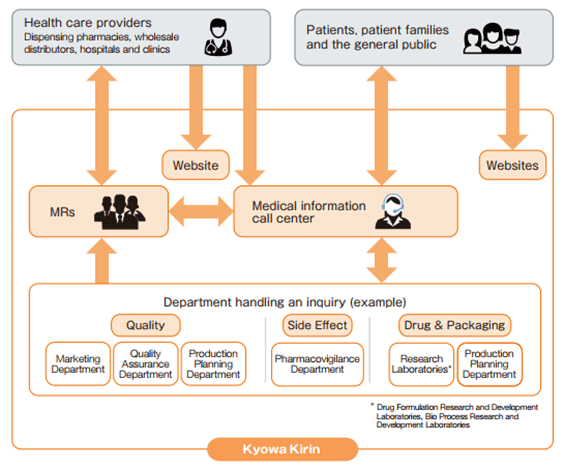 Medical Representatives (MRs)
Based on professional expertise, our MRs provide medical professionals with information highly useful for treating patients. They especially focus on providing information on the efficacies and safety of new drugs, for which medical professionals have both high hopes and doubts, as well as on the new value added to existing drugs due to their expanded indications and other factors.
Call Center for Inquiries on Pharmaceuticals
We receive around 40,000 calls a year at our call center established exclusively for drug-related inquiries and consultations. These calls come primarily from pharmacists and other medical professionals. To share information with the broader public, we also offer information on our website in the form of answering frequently asked questions (FAQs). In addition, we provide our call center staff with training and opportunities to be assessed by external parties to improve their capacities to respond promptly and appropriately to inquiries.
Website: Kyowa kirin medical site®
Through our website "Kyowa kirin medical site®" exclusively tailored to medical professionals, we share detailed product information and disease-related academic meeting reports and publications on nephrology, cardiovascular disease, diabetes mellitus, oncology, blood, immunology/allergy, the central nervous system, and the gastrointestinal regions. Video contents are also offered to facilitate understanding.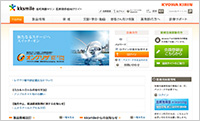 Health/disease information websites for patients and the broader public
These websites provide information on the causes and symptoms of diseases, their therapies, and disease-related information useful in everyday life. We currently offer websites on chronic kidney disease, diabetes mellitus, pollen allergy, skin itchiness, nocturnal enuresis, Parkinson's disease, myelodysplastic syndromes (MDS), idiopathic thrombocytopenic purpura (ITP), and hematopoietic stem cell transplantation (HSCT). Ongoing efforts are made to make the websites more informative and easier to use and understand.