Pharmacovigilance (PV)
Our Mission
Patient safety and appropriate use of our medicines is at the core of our business. We carefully evaluate safety data, provide reports to regulatory authorities in each jurisdiction and ensure frontline medical staff have access to the right information.
Our Vision
Together, we will work, learn and grow to create a highly compliant global PV organization, using medical science to add value to our medicines by predicting and preventing adverse reactions and change the lives of our patients for the better.

Global Pharmacovigilance Organization
Kyowa Kirin is a unique company that was established in October 2008 aiming to become an R&D-based global specialty pharmaceutical company originated in Japan. The pharmacovigilance organizational system has been constantly growing while flexibly responding to changes in the internal/external environment so that appropriate safety monitoring activities can be carried out across the life cycle from the R&D stage to the post-marketing stage, across various regions. We introduced new global management structure called "One Kyowa Kirin" in April 2019. In order to enable PV activities beyond regions, we have created an unique matrix structure that consists of four major functions (medical, operations, compliance and planning) and four major regions (Japan, EMEA, North America, and Asia・Pacific) under the leadership of the Global Head of PV. Such Global Pharmacovigilance Organization newly created went-live in April , 2020. We have also developed an infrastructure system (Single Global Safety DB System) to centrally manage safety information collected from all over the world.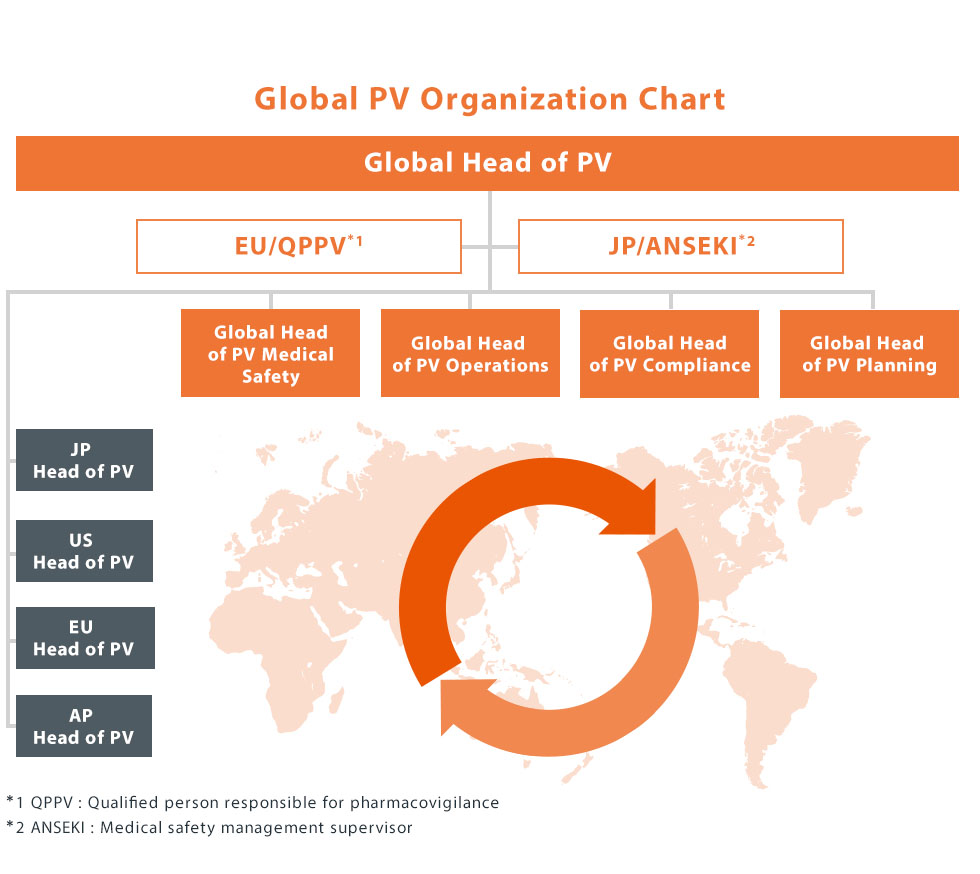 Our Challenges
To achieve our mission and vision, we are engaged with following activities:
To strengthen the global PV organization in response to changes in the internal and external environments, such as the expansion of sales countries of our products and changes in regulations in each country/region.
To enhance essential PV functions such as compliance (regulatory compliance), operations (collection / evaluation / reporting of safety management information) and medical science.
To secure, develop and exchange human resources across regions for the global PV organization enhancement.
To strengthen global PV business continuity plan (BCP)
Message from Global Head of PV
"Contributing to the safety of patients worldwide"
All pharmaceutical products have both benefits for patient treatment and risks in the form of potentially adverse reactions. To provide safer pharmaceutical products that give patients even greater peace of mind, we implement timely assessments and reviews of drug benefits and risks and continue to actively provide appropriate information to frontline practitioners, based on safety information collected from sources worldwide.
Global PV activities have a very important role to play in ensuring compliance worldwide, but complying with standards and regulations is more than just committing to our core value of integrity – "Do the right things. Be sincere and ethical consistently. Make a better world through good business practices." As employees, we also have to ask ourselves every day: are we acting ethically and doing the right thing for the safety of patients worldwide?
Our global safety teams play a central role in collecting and accurately evaluating safety data from markets around the world. When they face problems evaluating the data, we use the cross-functional capabilities of the global safety committee to discuss any issues. In all cases, patient safety is at the forefront of our thinking.