CSR Procurement
(Initiatives for the Supply Chain)
We at the Kyowa Kirin Group are promoting CSR procurement across the entire supply chain by ensuring that our suppliers understand and cooperate with our initiatives.
To ensure a stable supply of high-quality products, we are working to conduct open and fair CSR procurement. As part of our efforts, we stipulate the Kyowa Kirin Group Procurement Policy*1, which manifests our determination to promote CSR procurement in collaboration with suppliers.
To address the growing importance of CSR procurement, we established the Supplier Code of Conduct in the Kyowa Kirin CSR Procurement Guidebook to summarize areas in which cooperation by suppliers is required.
*1:

The Kyowa Kirin Group Procurement Policy is established based on the Kyowa Kirin Group Code of Conduct, which is established according to the policy of Kirin Group.
In promoting CSR procurement, all divisions incorporate their respective issues into their action plans and proceed with measures to solve them. Progress is reported at the Group CSR Committee.
In order to ensure that all employees have a shared awareness of the significance of practicing CSR procurement, training programs for all employees were continued to be offered in 2021. The training programs have also been provided at domestic Group companies since 2019.
Kyowa Kirin Group Procurement Policy
For the Kyowa Kirin Group's procurement activities, we have in place the Kyowa Kirin Group Procurement Policy, based on which we aim to forge long-term relationships of trust with our suppliers and together fulfill our corporate social responsibility by complying with all related laws, regulations and rules, and striving to engage in fair, just and open procurement activities.
Kyowa Kirin Group Procurement Policy
Established on November 29, 2012
Revised on September 1, 2020
To provide customers with safe and reliable products and services with clear value propositions, and thereby to fulfill the Kyowa Kirin Group's management philosophy whereby "The Kyowa Kirin Group companies strive to contribute to the health and well-being of people around the world by creating new value through the pursuit of advances in life sciences and technologies", the Kyowa Kirin Group is committed to fair and open procurement with the cooperation of our suppliers.
1.

Steady focus on quality

(1)

In procurement practices, we place a high priority on pursuing safety and quality in accordance with the "Kyowa Kirin Group Quality Assurance Policy," while also taking costs into account.

(2)

We welcome new ideas and technical solutions for increasing customer value from suppliers.

2.

Fair and open business dealings

(1)

We select suppliers based on their performance in quality (Q), cost (C), delivery (D), reliable supply, CSR efforts, technological expertise and ability to propose innovative ideas, etc.

(2)

We use a competitive bidding and selection process for procurement to ensure fairness to all suppliers.

3.

Ensuring regulatory and ethical compliance

(1)

We observe social norms as well as the letter and spirit of laws and regulations, and conduct business in a sensible and socially responsible manner.

(2)

Employees engaged in procurement practices shall not have personal conflicts of interest with any supplier. They shall not receive from any supplier rewards or gifts which deviate from social norms. They shall not force any supplier to make donations to the Group nor to buy products and services from the Group. They shall not impose a reciprocal business arrangement on any supplier.

4.

Environmental stewardship

(1)

We observe environmental laws, regulations, and ordinances, voluntary industry standards for the environment, and our own voluntary standards, to help society maintain a harmonious coexistence with nature.

(2)

We conduct environmentally sensible, nonpolluting procurement practices in accordance with the "Kyowa Kirin Group Environmental Policy".

5.

Coevolving relationships of mutual trust with suppliers

(1)

We strive to establish long-term, coevolving relationships of trust with suppliers. We work with suppliers to manage and avoid risks so as to minimize their impacts on society and the Kyowa Kirin Group's business.

(2)

We take the utmost care when managing personal information and confidential business information provided to us by suppliers, and do not disclose them to internal or external parties without the explicit approval of the original suppliers of such information.

6.

Promotion of CSR procurement
We actively promote CSR procurement and commit to sustainable social development with suppliers.
Supplier Code of Conduct
Kyowa Kirin sets forth the Supplier Code of Conduct to promote CSR across the entire supply chain. We ask suppliers to understand and comply with all items presented in the Supplier Code of Conduct, as well as to reflect on their own corporate activities from the perspective of CSR and make efforts for further improvement.
The Supplier Code of Conduct is comprised of seven perspectives.
1.

Relationship with Society
Suppliers, as good members of society, should strive for sustainable economic growth and solutions to social issues. To achieve this, suppliers should build friendly and ethical relationships with all stakeholders.

2.

Relationship with Employees
Suppliers should respect each individual's humanity and strive to maintain an employee-friendly environment at workplace.

3.

Compliance with Rules
Suppliers should abide by social rules and act in good faith with high ethical standards.

4.

Respect for Human Rights
Suppliers should respect human rights and diversity of all people.

5.

Environmental Preservation
Suppliers should proactively initiate measures based on the recognition that addressing environmental problem is a mutual task of all the people and an essential requirement for corporate activities and survival.

6.

Information Management
Suppliers should properly manage information concerning their business.

7.

Risk Management
Suppliers should manage risks and crises pertaining to their business appropriately.
The Supplier Code of Conduct is set out in further detail in the Kyowa Kirin CSR Procurement Guidebook.
We revised the Guidebook on June 1, 2021, with the aim of pursuing sustainable procurement in collaboration with our suppliers.
Kyowa Kirin CSR Procurement Guidebook

Kyowa Kirin's CSR Procurement Initiatives
At Kyowa Kirin, the following measures are carried out in each stage of transactions with suppliers.
(1)

Ensuring that suppliers are familiar with CSR procurement.

We regularly provide suppliers with explanations on our approach to CSR procurement, the Supplier Code of Conduct, and other related information.

Briefing sessions for individual suppliers / for all suppliers

A briefing webinar was held in November 2021 with 463 suppliers in attendance.

A supply chain exchange meeting was held in 2018 to share information on, and solutions for, issues faced by the entire supply chain.
When starting new transactions with suppliers, we provide them with an explanation of our CSR Procurement Guidebook and ask for their understanding and cooperation.
When a large number of new transactions is expected, we hold pre-transaction briefing sessions for new suppliers (2018: Takasaki Plant; 2021: Briefing for a change in the procurement system).

(2)

Selecting and concluding contracts with suppliers

We select suppliers in accordance with a set of criteria based on objective information.
With existing suppliers, we conclude a contract to ensure their compliance with the Supplier Code of Conduct.

(3)

Post-contract follow-up

We keep track of suppliers based on objective indicators, assess their risk, and conduct follow-up surveys in accordance with their risk.

We annually conduct a CSR questionnaire survey for existing suppliers to examine their CSR activities and identify issues within the supply chain. The results of the questionnaire are used at supplier briefing sessions to share the issues identified and increase the awareness of suppliers.
We assess suppliers based on objective information and monitor them according to their level of importance. The most important suppliers are monitored at all times.
If a concern arises, we inspect how the concern is being addressed through a follow-up inspection or visit to the relevant supplier. In the case of a particularly important concern, we review our transaction with the supplier based on a set of preset criteria.
We check and share information on individual suppliers' CSR-related issues by visiting them or holding face-to-face/online meetings.
Our procurement staff members attend quality assurance inspections to check the suppliers' sites directly.
CSR Questionnaire Surveys
With regard to the topics covered in the Supplier Code of Conduct, we annually conduct a CSR questionnaire survey to understand and analyze the CSR activities under way in the supply chain and identify existing issues. The results of the questionnaire are provided to the respondent suppliers as feedback. We have also conducted CSR questionnaire surveys of overseas suppliers since 2019.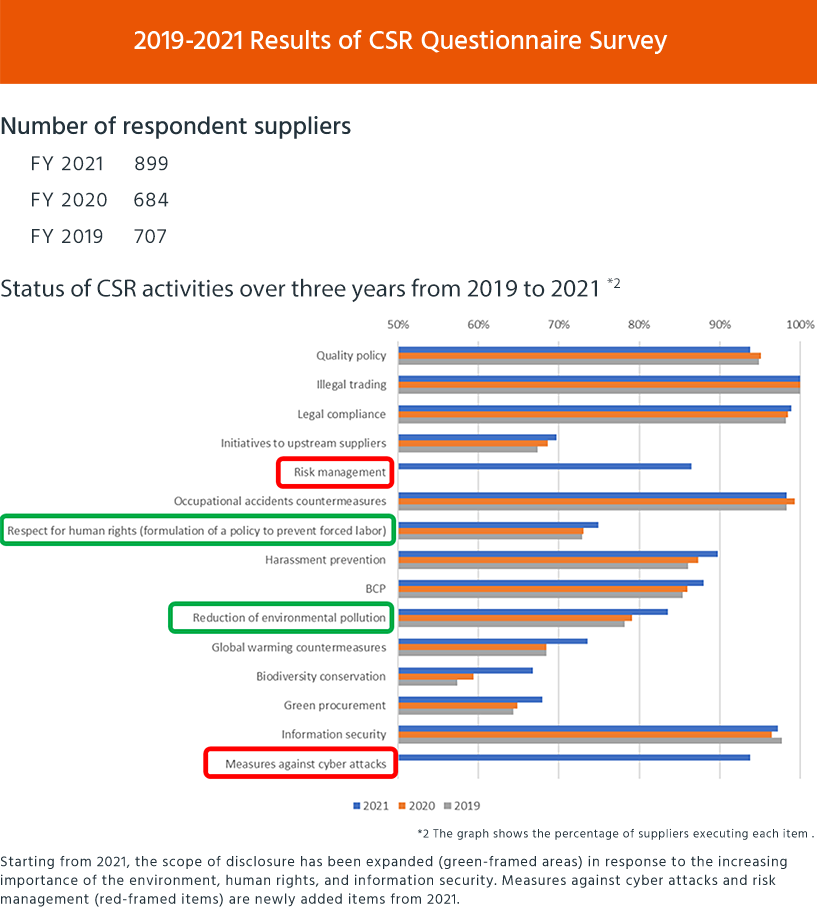 Present status and issues identified through the 2021 CSR questionnaire survey result
High scores were maintained for illegal trading, legal compliance and occupational accidents countermeasures, indicating the efforts made to strengthen organizational governance.
The overall trend was about the same over three years from 2019 to 2021, with harassment prevention, business continuity planning (BCP), reduction of environmental pollution, biodiversity conservation, and green procurement activities showing an increasing trend.
For respect for human rights (formulation of a policy to prevent forced labor), less than 75% of the companies responded that they have formulated the policy. Respect for human rights is a global common issue, and the formulation of a policy to prevent forced labor is crucial for conducting activities related to respect for human rights. Therefore, improvement is required for this item.
For the environmental aspect, global warming is an issue common to all human beings. Although improvements have been made, overall scores remained low. Environmental activities need to be promoted toward the goal of achieving a sustainable society.
With regard to business continuity planning (BCP), about 88% of respondents answered that preparatory measures for emergencies were in place, indicating a high awareness of wide-ranging risks.
For measures against cyber attacks, a newly added item, many companies had some measures in place. With regard to information security systems, nearly 97% of respondents had established a system, while less than 94% have measures against cyber attacks in place. As we have heard that many companies have suffered from a cyber attack, we request that companies with no measures in place promptly consider taking action.
Measures to Be Taken for the Future
Kyowa Kirin reviews its CSR activities, identifies issues that need to be solved, and works to make improvements with the cooperation of its suppliers. In particular, we intend to continue implementing anti-bribery and human rights due diligence, which are high-profile themes. We are also working on environmental preservation by recognizing issues and implementing activities that help prevent global warming.
Looking forward, we will expand our efforts to the entire Kyowa Kirin Group, further strengthen our collaboration with the entire supply chain, and actively push forward CSR procurement with all our suppliers.