Human Resource Development and Corporate Culture
At the Kyowa Kirin Group, we consider human resources to be the source of our innovation. One of the pillars of our management strategy in the 2021‒2025 Medium Term Business Plan is to "strengthen our talent and infrastructure to realize life-changing value." Toward this goal, we focus on maximizing the potential of each individual, and developing people and an organization that will tirelessly push through reform and create new value.
We have established the Global Talent Management Basics for 2021‒2025 as the vision for our human resources function. By working to realize this vision, we will contribute to the promotion of the Group's management strategy, which will ultimately enable us to create value that brings smiles to patients' faces.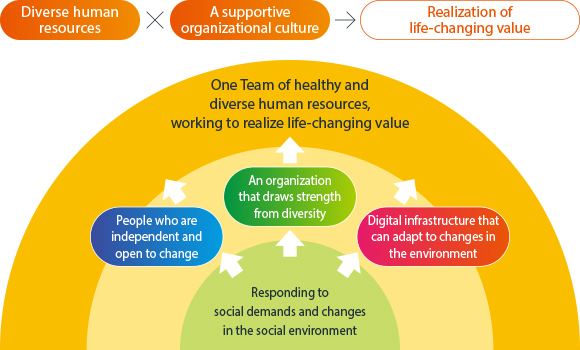 Kyowa Kirin Group Talent Management Policy
Established on August 30, 2017
In an effort to fulfill its management philosophy, the Kyowa Kirin Group (hereinafter, "the Group") acts in line with its Core Values and Code of Conduct and with high ethical standards toward its goal of becoming a corporate group trusted by society.
The business environment surrounding the Group is undergoing increasingly dramatic changes as health and medical care needs and technology diversify and issues of healthcare economics emerge on a global scale. In such an evolving environment, we must accelerate our own business model transformation, such as by creating new value and globalizing our businesses. To this end, it is imperative for us to retain and develop employees capable of exerting leadership and autonomously taking on the challenge of reform. We must maximize the capabilities of individuals with diverse backgrounds and offer them opportunities to co-create new value.
In light of such circumstances, we have established the following policy to clearly define the relationship between the Group's employees and the companies they work for, delineate our uniform Group-wide approach to employees' competence development, and strengthen the development of individuals and organizations that will tirelessly tackle reform and create new value.
1.

Considering its employees as the source of innovation, the Group strives to unleash the full potential of each and every employee to develop individuals and organizations that will tirelessly tackle reform and create new value.

2.

The Group harnesses the unique individuality of employees with diverse backgrounds and encourages them to co-create new value.

The Group strives to create an open and invigorated corporate culture.
The Group provides opportunities for challenge and growth.

3.

The Group's employees shall act autonomously and take on the challenge of reform that contributes to the Group's growth.

The Group's employees shall think, interact and take actions with self-initiative.
The Group's employees shall seek to achieve self-growth and contribute to their organizations.

4.

The Group engages in labor management in compliance with laws and regulations, guidelines and industrial rules pertaining to labor relations in the countries where it operates its business.

5.

To achieve the above 1 through 4, the Group establishes and operates appropriate organizational schemes and operational processes at each Group company.
Overview of Human Resource Development System
In the aforementioned Global Talent Management Basics for 2021‒2025, we uphold the achievement of our vision through developing human resources. In global talent management under the One Kyowa Kirin (OKK) structure, the Kyowa Kirin Group distinctly places importance on the development of people.
In our Group Policies, we have a Talent Management Policy in place. In line with this policy, we at Kyowa Kirin (Japan region) offer growth opportunities through job experiences and human resources development programs finely tailored to different ranks and objectives in an effort to foster talent who will demonstrate leadership in the OKK structure and serve as the driving force of an innovation-oriented corporate culture.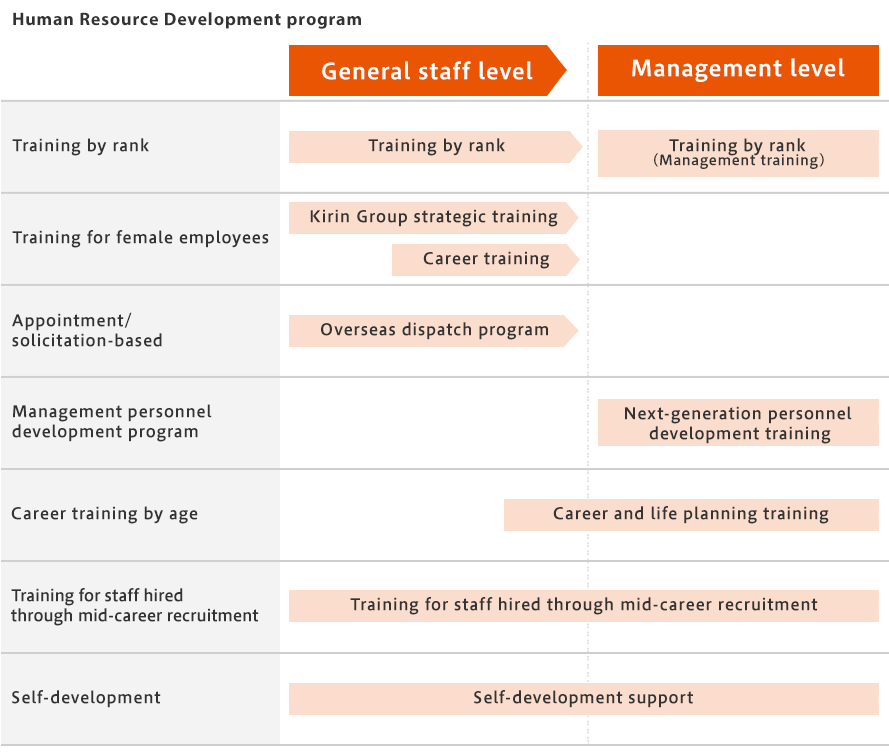 Kyowa Kirin refers to management level employees as "managerial staff," and non-managerial employees as "general staff."
You can see this table by scrolling horizontally.
FY 2021 training conducted by the Human Resources Department

Programs
People Trained
Total Training
Time (hours)
Compulsory training by rank
Training by rank (General staff)
472
9,988
Training by rank (Managerial staff)
270
4,145
Next-generation personnel development
Next-generation personnel development training
28
1,764
Training for female employees
Kirin Group training
5
227
Career training
11
401
Staff hired through mid-career recruitment
Training for staff hired through mid-career recruitment
335
2,111
Career training by age
Career and life planning training (General staff)
67
153
Career and life planning training (Managerial staff)
103
133
Self-development
Self-development support
329
-
Total
1,291
18,925
Kyowa Kirin's annual training hours per participant and training hours per employee for FY2021 are as follows, excluding time used for self-development.
Annual training hours per participant:
14.0 hours
Training hours per employee:
5.5 hours
Our training program primarily constitutes rank-specific training, which is designed based on the role development map specifying the roles expected of each rank. The rank-based training aims to help participants understand their roles and take actions accordingly. Moreover, in an effort to engender a culture of learning, we also offer a self-development support program, which aims at enhancing trainees' skills and knowledge to help them become what they desire to be in the future.
Furthermore, we also have initiatives in place to encourage R&D personnel to participate in education and training programs at universities and other educational institutions with the aim of enhancing their scientific capacity and providing them with opportunities to play active roles outside the company.
Employee Awareness Survey
The Kyowa Kirin Group conducts a uniform Group-wide employee awareness survey ever year at Kyowa Kirin and its subsidiaries within and outside Japan. By identifying our organization's strengths and areas that need improvement and implementing initiatives to solve issues clarified through the survey, we are striving to bring out the maximum potential in each and every employee, to encourage people to make transformations and continue creating new values, and to build organizations conducive to such a corporate culture.
Performance-linked remuneration system
Kyowa Kirin uses a performance-linked remuneration system in which the level of bonus for the entire Company is determined based on its financial performance. In addition, the amount of bonus for each employee is decided by incorporating the degree of contribution they have made to the organization they work for. By having corporate performance and the degree of contribution reflected to some extent in each employee's remuneration, we aim to motivate them to enhance corporate performance.
Evaluation System
Kyowa Kirin employs an evaluation system for the purpose of developing and growing employees and improving business performance by demonstrating such development and growth. The evaluation system is based on a role development map that shows the roles and behavioral levels expected of each employee, and is operated as an integrated system from the perspectives of short-term role development and behavioral enhancement (GSP evaluation), expansion of performance and organizational contributions semi-annually (contribution evaluation), and mid- to long-term human resource development (career development).
In the evaluation process, individual meetings are held between supervisors and members in order to ensure that the series of processes, from goal setting to conducting the evaluation and providing feedback, are carried out properly. In the meeting at the beginning of the term, the supervisor and the member have a discussion about goal-setting and career prospects, and share their perceptions. In the meeting at the end of the term, they review their performance and processes against their goals and conduct an evaluation with the supervisor. During the evaluation feedback, the supervisor communicates the results of the evaluation and discusses the expectations and shortcomings of the member, leading to a better understanding of the evaluation and opportunities for further growth. Decisions on bonuses and salary increases are based on the GSP evaluation and contribution evaluation. In addition to individual interviews, Kyowa Kirin proactively utilizes "1-on-1 communication," which consists of a regular one-on-one discussion to confirm the progress of work, human resource development, and expected roles.
Furthermore, for middle management, we conduct management surveys that include the perspectives of subordinates. The purpose of this is to encourage the development of leadership and other skills, as well as to strengthen behavior leading to behavioral change. We also conduct evaluator training to improve the conviction and fairness of evaluations.
Career Development
Every employee completes a Career Development Sheet, while superiors fill out a Talent Review Sheet, with the aim of aligning the career plan of each individual with the capacity-building direction pursued by the Company and helping them achieve growth, unleash their full potential, and accomplish tangible outcome.
Furthermore, each division semiannually holds the Talent Review Council meeting to discuss the specific new challenges to be assigned to each individual with the aim of helping them maximize their capabilities, achieve growth, and fulfill their potential. Thus, in addition to the direct superior, the entire organization is involved in the promotion of human resources development.
Dialogue with Employees
Kyowa Kirin has agreed with the labor union to adopt the union-shop system, and repeatedly engages in constructive discussions in a spirit of partnership and mutual respect with the aim of maintaining a comfortable work environment where individuals are respected for who they are and developing a corporate culture conducive to such environment. Labor-management discussions are also held at each domestic Group company in an effort to establish and maintain a sound relationship between the two sides.
Programs for Developing Managerial Personnel
We provide appointment-based training to develop executives for the next generation. The theme of the training is "learning the perspectives and ideas of executives," and the training period lasts six-months. This training is offered to young managerial staff and general staff. The objective of the program is for young managerial staff to become key personnel for the next generation by acquiring a perspective with an awareness of management through various case studies, communication with top managerial staff, and solving the company's own issues; and for general staff to accelerate their growth by acquiring a broader perspective and the ability to consider on a long-term timeline basis. We will continue to develop managerial personnel for the next generation by pooling these next-generation personnel and discussing their future career plans.
To develop leaders in a systematic manner, we are implementing succession planning on a global scale. In addition, in the Japan region, we have linked the Career Development Sheet completed by all employees, the Talent Review Sheet filled out by their superiors to specify their strengths, issues and development policies, and the semiannual Talent Review Council meeting held by each division to discuss HR development. This measure also helps us push forward career development and HR development. The talent information obtained and accumulated through these initiatives is effectively used to create our succession plan.
Financial grant program for degree acquisition
As an R&D-focused life science company, Kyowa Kirin helps R&D employees earn degrees that benefit their career paths by providing grants to cover all expenses incurred to earn such degrees.
Corporate Culture Reform
Since 2019, the Kyowa Kirin Group has been working to reform its corporate culture so as to achieve further growth and development as a Global Specialty Pharmaceutical Company. Upholding the slogan "KABEGOE," meaning "overcoming barriers," we are aiming to become an organizational entity where each and every employee constantly seeks to change and evolve, take actions, and learn. This initiative was first initiated in Japan and subsequently rolled out overseas. In each region around the world, we are offering workshops designed to help employees better understand the company's vision and values and consider KABEGOE activities as being relevant to themselves.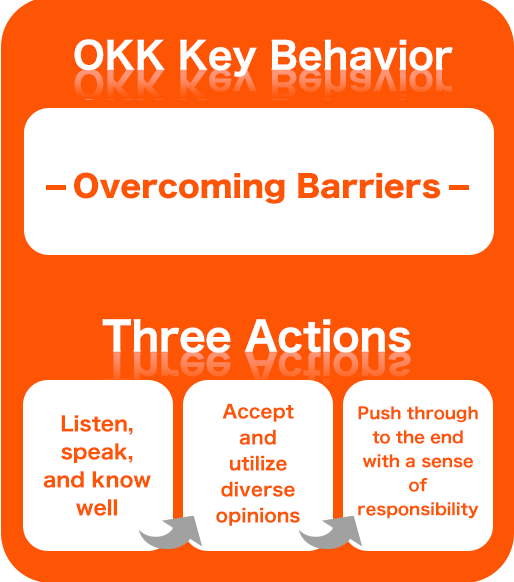 Hybrid Working Model
The COVID-19 pandemic forced various inconveniences upon us, imposing restrictions on working at the office or visiting customers. At the same time, we have made many adjustments as we adapted to the dramatically changing environment, creating and adopting new ways of working to fulfill our responsibility as a life sciences company. To continue to create life-changing value and bring smiles to patients around the world, we have proposed a hybrid working model as a desirable work style for the Kyowa Kirin Group. We will continue to pursue the optimal way of working that allows each function, region and organization to create maximum value, with each and every employee taking the initiative.
[Three Key Principles of Kyowa Kirin's Hybrid Working Model]
Nothing that costs our well-being is worth it
Flexibility within a framework
Employees are the architects of the new Model