Promotion of Workplace Health and Safety
Employees of Kyowa Kirin Group and people around us work on the Wellness Action (behavior change) with our own motivation and excitement, and contribute to the company and society in addition to reducing our own health risks and improving the well-being.
Initiatives for Health and Productivity Management
Policy for Health and Productivity Management
In May 2015, our top management team announced the Declaration of Health Promotion and initiated the Kyowa Kirin Group Wellness Action 2020 through collaboration between the Company and its health insurance association.*2
Kyowa Kirin Group Declaration of Health Promotion
The Kyowa Kirin Group declares it will promote the health of its employees with the aim of enhancing their lifelong quality of life.
While employees make spontaneous efforts to improve their own health, the Group aspires to promote its employees' health from a preventive perspective, aiming for a higher level of health.
The Group implements measures to motivate each and every employee to take actions for improving their health, and to help them sustain such actions.
Conceptual Framework of the Kyowa Kirin Group's Health and Productivity Management
Kyowa Kirin Group's Health and Productivity Management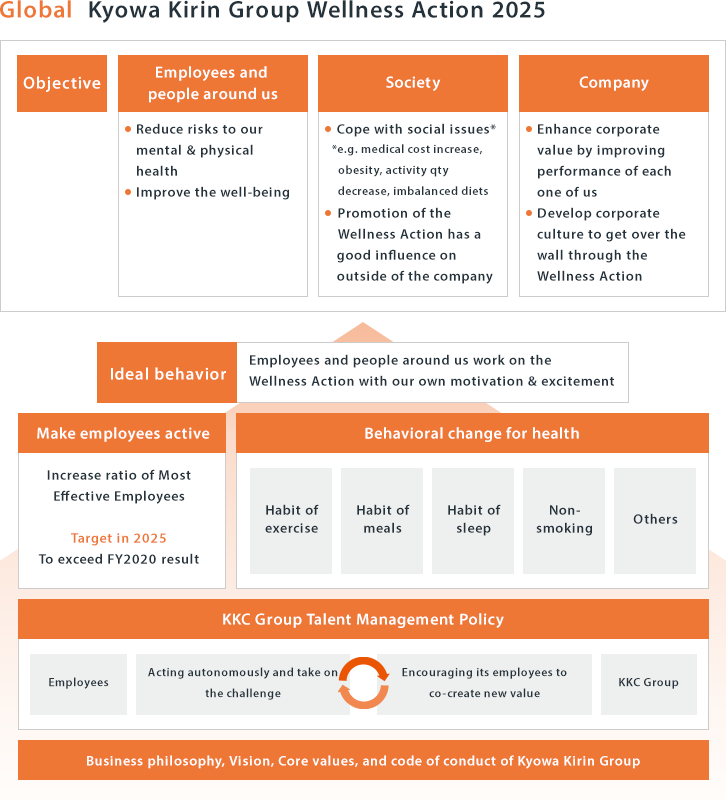 Organizational Structure
The human resources director of Kyowa Kirin heads up our initiatives to promote health and productivity management, which are operated by the Collaborative Health Promotion Committee composed of representatives of each business site and the Working-Level Conference for Collaborative Health Promotion. Committee members and working-level staff collaborate with industrial physicians, public health nurses and occupational health and safety divisions to execute initiatives tailored to the characteristics of each business site.
The progress achieved with regard to the initiatives is discussed and monitored at the Executive Committee and the Group CSR Committee.
Measures Implemented
We implement Group-wide measures for health promotion and disease prevention, as well as individual measures at each business site.
Our health insurance association issues an annual Health Report, in which trends in illnesses by age group and lifestyle survey results are introduced to illuminate the Company's health-related issues and raise employees' health awareness.
Examples of Group-wide measures
Interactive communication using in-house social networking site "Beats Live"
Using the in-house social networking site, we are working to bring smiles to employees' faces and trigger small changes in their behavior through casual initiatives that are unrestricted by the time and place they work.
Initiatives include the lunchtime "10-minute Radio" by members of the "Smile Project," which is a project launched by volunteers amid the coronavirus outbreak, and health-related quizzes. Employees can freely post messages on the site, too.

The pre-launch promotion for the "10-minute Radio" was also proposed by members of the "Smile Project."

Live streaming of stretching exercises and other content by Kyowa Kirin's table tennis and tennis teams (videos are posted on the site after the live stream) are designed to allow everyone to get involved regardless of where and when they work.

Workplace short training session on positive mental health
In addition to anti-stress measures aimed at preventing mental health problems, we also engage in efforts to enhance interpersonal relations (Teamwork/Wa) and creativity (Innovation) based on the Kyowa Kirin Group's management philosophy and values.
So that each and every person can fully take part in the discussions, training sessions were held by each group, section and unit , totaling 566 organizations in all.
Participants gave positive comments after the sessions: "I will properly convey my feelings of gratitude," "I will try to emulate the good things in the people around me," "I will try to come up with specific ideas to make work more fun."

Excerpt from materials for the workplace short training
Fish! A Remarkable Way to Boost Morale and Improve Results
Stephen C. Lundin, Ph.D., Harry Paul, John Christensen

Excerpt from materials for the workplace short training

Health Festival at the Headquarters
At the health festival held in the autumn of 2019, participants were allowed to freely enter and leave so that as many employees as possible could attend.
Employees took part in seminars and events of their choice and checked their health using various health measuring equipment.
About 260 people, or roughly 25 percent of the workers at the headquarters, took part.

Free to enter and leave at any time

Yoga seminar (peace of mind and body)

Sports event using VR technology

An area to measure skeletal age, brain age, skin age etc.

Walking Campaign in a board-game style for playful spirit
President and directors of business sites are moving on in the game according to the team's participation rate and average step counts. All teams worked on it in close cooperation, and we had an exciting activity.

Board game played by teams across business sites

Pieces move on to the boxes by multiplying participation rate and step counts

Strengthened our regular physical checkup program with additional test items, exceeding legal requirements (e.g., biochemical tests, cancer screenings)
Program to protect high-risk individuals from aggravation
Lectures on health-related topics
Mental health counseling service and training programs offered by industrial physicians and contractors
Walking events and other sporting meets
Discounts on sports club membership
Financial support for medical care to quit smoking and anti-smoking medication
Financial support for preventing diseases (e.g., comprehensive health checkup, seasonal flu shot, elimination of Helicobacter pylori infection)
Support for employees undergoing cancer treatment while continuing to work (available only at Kyowa Kirin); and support for employees returning to work after a long period of sick leave
Issuing of

Health Report
Individual measures at each business site
No smoking policy declared by the heads of each business site

Health support program (sleep support)

Healthy menu and complimentary salad offered at worksite cafeteria
Feedback from participants
Mental health seminar: "The casework was very practical and beneficial."
Physical exercise program: "I was able to flex my body and get some exercise for a change."
Seminar on breast cancer prevention and treating breast cancer while continuing to work: "The seminar raised my awareness of cancer prevention, and made me feel that I should take pride in working as a pharmaceutical company employee."
Assessing Measures and Making Improvements
In June 2018, we formulated the Kyowa Kirin Group Wellness Action 2020 GOALS to implement the plan-do-check-act (PDCA) cycle in our health and productivity management initiatives. By achieving our six numerical targets, we aim to minimize health-related risks and promote positive and vigorous workplaces.
Kyowa Kirin Group Wellness Action 2020 GOALS(Numerical Targets)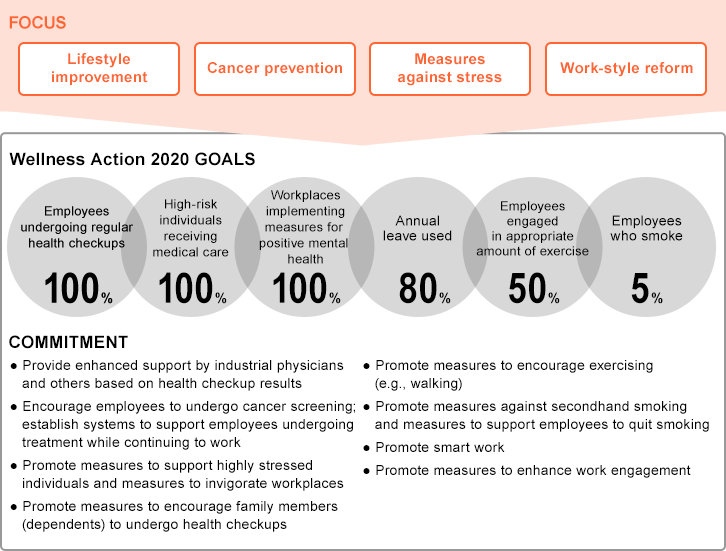 Achieved Progress
While monitoring the progress achieved at each business site, we strive to evaluate and improve our initiatives by creating opportunities to share our issues with the top management.
You can see this table by scrolling horizontally.
| Indicator | Employees undergoing regular health checkups | High-risk individuals receiving medical care*2 | Annual leave used | Employees engaged in appropriate amount of exercise | Workplaces implementing measures for positive mental health | Employees who smoke |
| --- | --- | --- | --- | --- | --- | --- |
| Before initiative was introduced*1 | 96% | 54% | 71% | 35% | - | 22% |
| FY 2018 results | 99.9% | 83% | 72% | 54% | - | 17.7% |
| FY 2019 results | 99.9% | 100% | 78% | 52% | - | 12.2% |
| FY 2020 results | 99.9% | 96% | 75% | 49% | 100% | 4.4% |
| Assessment | | | | | Achieved | Achieved |
*1:

The percentages for before the introduction of the initiatives are figures of the entire Kyowa Kirin Group in 2016.

*2:

Ratio of employees who received secondary health checkup (close examination, reinspection) out of those applicable to follow-up measure level 3 based on the KKC health checkup follow-up measure guideline, excluding cases in which a occupational health physician judged commuting to hospital unnecessary.
Health investment and expected effects
Each initiative is checked and assessed both quantitatively and qualitatively at the corporate strategy meetings and other occasions.
Through the initiatives for health we aim to solve management issues.
Kyowa Kirin Group's problem before quitting smoking
Although Kyowa Kirin is a company engaged in the pharmaceutical business and has a management philosophy of "striving to contribute to the health and well-being of people around the world," the smoking rate among employees was higher than the nationwide adult smoking rate.
→The company will work to help employees quit smoking, because the health, well-being and smiles of employees and their families lead to the fulfillment of the management philosophy.
Good points of Kyowa Kirin's no-smoking initiative (qualitative assessment)
Each employee, including non-smokers, is encouraged to treat the problem as their own and to take on the challenge
Continuous support by top management, heads of business sites and the human resources departments of business sites 
Setting no-smoking rules in stages (no-smoking day -> no-smoking during working hours ->no-smoking during working hours + no-smoking on company premises)
Regularly checking on smoking status and sharing the progress
Collaboration with the health insurance association (the company will be responsible for employee communication, health insurance association will be responsible for smoking cessation subsidy program)
By focusing efforts on indicators in the Wellness Action 2020 GOALS that were not improving as expected, the initiative quickly led to employees' behavior change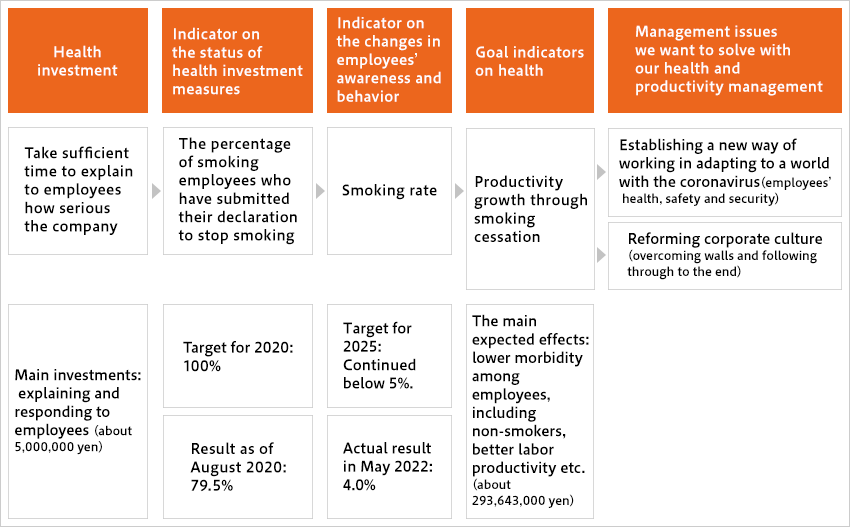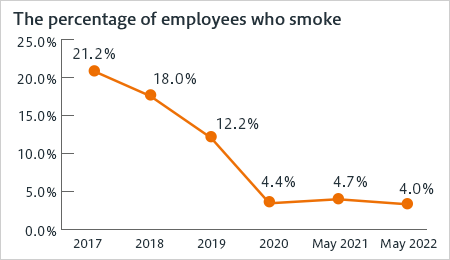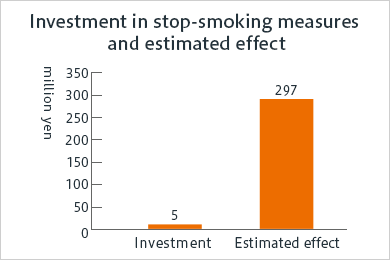 Below is how we consider the estimated effect from the investment.
Calculation method for estimated effect: 1 × (2 - 3)
1.

Annual cost for the company: 553,000 yen (reference: Seattle University Professor William Weis, PhD 1981)

2.

The number of smoking employees in 2017: 692 (from the regular physical examination questionnaire)

3.

The number of smoking employees as of August 2020: 161 (from a regularly-conducted survey)
Kyowa Kirin Group's Problems with exercise
In the final year results of the Wellness Action 2020 GOALS, less than half of employees engaged in appropriate amount of exercise.
It was necessary to intentionally create opportunities for physical activity under the restriction of going out due to the spread of the new coronavirus.
→Wellness Action 2025 will target specific actions that are easy to understand and implement, such as the participation rate in walking campaigns and the average number of steps taken.
Good points in the Kyowa Kirin's activity for exercise (Qualitative evaluation)
Looking back on lifestyle-related results and change to a target more familiar to employees led to change of behavior.
Working on the campaign while sharing good practice of other business sites led to activation of the campaign in all business sites beyond the boundaries of location.
Worked on the campaign in cooperation with the Health Insurance Association. (Communication with employees by the company, operation of application (software) by Health Insurance Association)
Since the executives took the leading roles to work on the activity, the company's earnest effort was delivered to employees (the average step counts of executives: 8009)
By timely posting of the progress of the board game with playful spirit to the in-house newsletter, "visualized" result has been widely spread.
Issues found from Kyowa Kirin's Walking Campaign
After the campaign period, the average step counts of the participants per day exceeded the target of company average 5000 counts, but the result shows that participants of less than 4000 step counts account for 45%. KKC continues this activity aiming to increase the percentage of participants who exceed 4000 step counts, so that each one of us will work on this on our own initiative more than ever.
The effect to the final target indicators related to health will be studied in the long term.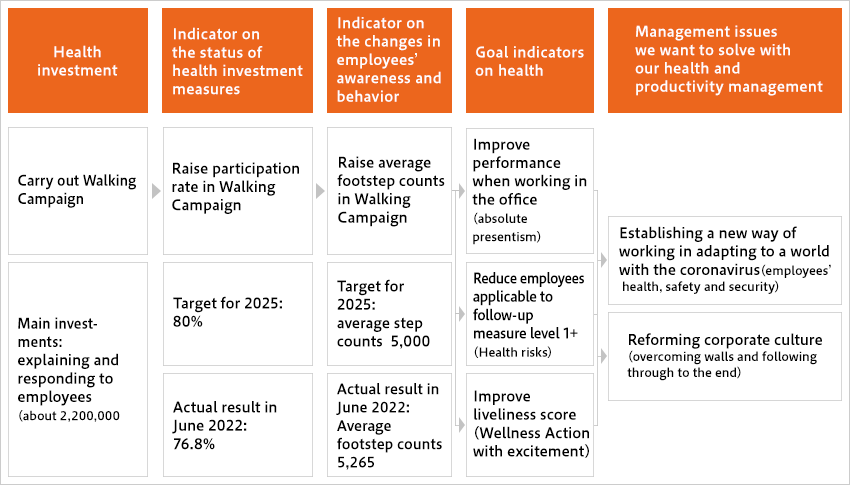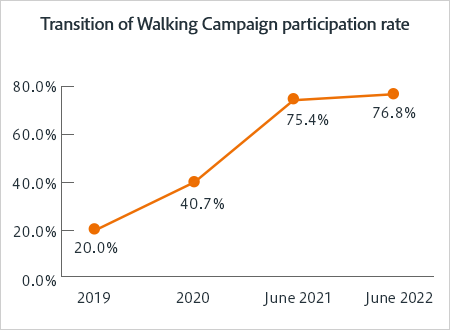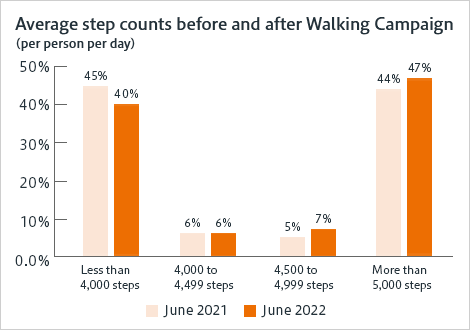 You can see this table by scrolling horizontally.
FY 2018
FY 2019
FY 2020
May 2021
Workplace health resources
Positive answer rate to "I think about the health and well-being of members in the workplace and people around them regarding it as my own affair, take care of them each other, and work on the activity with fun." (Survey about Wellness Action)
-
-
-
62%
Goal Indicators on health
Performance when working in the office
How would you rate your overall job performance on the days you worked during the past 4 weeks?
(Absolute presentism by WHO-HPQ)
-
-
59.8
Work-life balance
Positive answer rate to question(s) related to work-life balance in the Global Engagement and Motivation Survey
60%
62%
65%
Health risks
Ratio of employees applicable to follow-up measure level 1+ based on the KKC health checkup follow-up measure guideline
-
-
26.8%
Work engagement
Liveliness level
-
118
121
Indicator on the changes in employees' awareness and behavior
Moderate drinking
Ratio of employees classified in non-drinking group or low risk drinking group (AUDIT: less than 10 pts)
82.6%
82.7%
87.8%
Indicator on the status of health investment measures
Interview by occupational health physician
Ratio of employees who had the interview out of those applicable to follow-up measure level 3 based on the KKC health checkup follow-up measure guideline
-
-
98.4%
Mental health
Ratio of employees who conducted the stress check
97.0%
96.2%
97.3%
Activities beyond the boundaries of company
Organized the COVID-19 workplace vaccination including outsourcing companies and companies in the neighborhood
Based on the Kyowa Kirin Group Wellness Action, requested customers visiting its plants to refrain from smoking in the business sites
Provided the know-how of no-smoking promotion in Kyowa Kirin to the consortium of companies promoting no-smoking campaign
External Assessment
Kyowa Kirin was recognized as a 2022 Health & Productivity Stock *3, and it is the first time chosen as Health & Productivity Stock. And Kyowa Kirin was recognized as a Certified Health & Productivity Management Outstanding Organization (White 500) *4 for the sixth consecutive years, which are the outcome of the Survey on Health and Productivity conducted by the Ministry of Economy, Trade and Industry (METI).
*1:

The term "Kenko Keiei (health and productivity management)" is a registered trademark of the Workshop for the Management of Health on Company and Employee.

*2:

The policy and initiatives for health and productivity management are shared across the entire Kyowa Kirin Group, and practiced by each of the Group companies below:

*3:

One listed company per industry is selected for "Health & Productivity Stock" as a company that conducts outstanding health and productivity management among listed companies which are considering about employees' health and productivity management from a business-management perspective, and addressing it strategically. The purpose of the program is to help companies that are engaged in health management to gain social appraisal and further promoting health management initiatives by introducing them as attractive companies to investors who place importance on improvement of corporate value from a long-term perspective.

*4:

The Certified Health & Productivity Management Organization Recognition Program endeavors to highlight outstanding enterprises engaged in efforts to advance health and productivity management and thereby aims to organize an environment in which such enterprises are able to gain enhanced public recognition, e.g., from employees, employment seekers, related enterprises and financial institutions, as organizations engaging in strategic health and productivity management efforts for maintaining their employees' health from a management perspective. Certifications under the program began in 2017.
Occupational Health and Safety
To prevent industrial accidents, the Kyowa Kirin Group conducts risk assessments at each business site as part of its daily production or research activities and prior to construction work. By timely employing external consultants in safety audits, we are trying to understand issues faced by plants from a multifaceted perspective for further improvements. Health and Safety training is provided annually to newly appointed managers and safety management staff in order to promote safety awareness. Health and Safety activities are checked through risk management programs and audit, and the results are discussed by the Group CSR Committee and reported to the Board of Directors to be reflected in the action policy for the following year.
Kyowa Kirin Group Policy for Occupational Health and Safety
Established on November 22, 2018
We at the Kyowa Kirin Group (hereafter referred to as "Our Group") believe that ensuring the health and safety of all its employees is crucial in fulfilling its management philosophy of "striving to contribute to the health and well-being of people around the world by creating new value through the pursuit of advances in life sciences and technologies." Therefore we engage in ongoing activities to prevent occupational accidents and disasters. Our aim is to foster a deeply rooted culture that encourages each and every employee to think and act on their own accord so that the standards of Our Group's occupational health and safety can be enhanced.
1.

By operating our management system for occupational health and safety, we promote ongoing improvements with the aim of enhancing Our Group's health and safety standards.

2.

We strive to prevent occupational accidents and disasters by identifying and assessing sources of hazards in workplaces and taking measures to eliminate or reduce the identified risks.

3.

We comply with laws and regulations concerning occupational health and safety in the countries and regions where Our Group conducts business activities, and make ongoing efforts to ensure the health and safety of our employees.

4.

We implement education, training and awareness activities on occupational health and safety in a rigorous and systematic manner with the aim of raising employee awareness.

5.

We actively encourage communication between the employer and each employee indispensable for ensuring employee health and safety, and implement health and safety activities engaging all employees.
In 2019, there was a one accident that required time off from work across the all location of Kyowa Kirin. The accident frequency rate*1 was 0.13 and the accident severity rate*2 was 0.0062. We strive to prevent recurrence by sharing across the Group case examples of accidents that required no time off from work and close calls.
*1:

Accident frequency rate: The number of fatal and lost time accidents per million working hours

*2:

Accident severity rate: The number of lost days per 1,000 working hours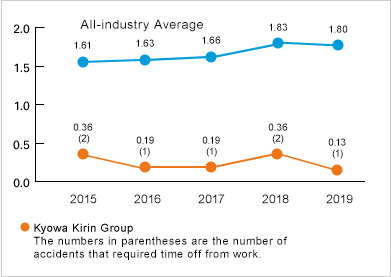 *3:

The plants and research laboratories in Japan of Kyowa Kirin, Kyowa Medex (excluded in 2018 due to deconsolidation), Kyowa Hakko Bio and Kyowa Pharma Chemical are covered until 2018. In 2019, all locations of Kyowa Kirin are covered.
Disaster Drills
In the event that an explosion or fire or a natural disaster such as an earthquake causes damage to one or more of our plants, the Kyowa Kirin Group's rule is to establish a crisis management division or a large-scale disaster management division led by top management to engage in rescue operations and support the site's restoration activities. Each plant has its own disaster response scheme and holds regular disaster drills to minimize the damage caused by a disaster.
Promotion of Safe Driving
Kyowa Kirin has a fleet of around 1,300 vehicles driven by sales representatives. To prevent accidents, we strive to promote safe driving using diverse approaches, including implementing measures to prevent risks and allocating effective resources for safe driving, in addition to raising safety awareness among drivers.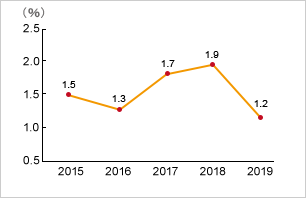 In 2008, we introduced a safe driving training program in which the driving skills of primarily new employees are assessed on a five-point scale to help them enhance their driving techniques and safety awareness. To support inexperienced drivers, driving recorders are installed in their vehicles. Furthermore, we introduced the pre-crash safety system into all our vehicles. As a result of these efforts, we are beginning to show results in the reduction of traffic accidents.