Reduce Waste Emissions, Reduce Chemical Emissions, Biodiversity Preservation
Initiatives to Reduce Waste Emissions
Waste Governance
Kyowa Kirin Group is tightening its waste governance system and implementing resource recycling.
Our Group makes it a rule to not only audit waste disposal service providers upon concluding contracts with them, but also to conduct periodic audits to check that their services are of high quality in order to help prevent illegal dumping. In addition, Group-wide efforts are made to enhance awareness of waste governance, such as by providing waste management personnel with ongoing education. We intend to step up measures to build a more secure and effective waste governance system.
Zero Emission Activities
Waste generated across the entire Kyowa Kirin Group's sites in Japan*1 reached 1,408 tons in 2020. The final landfill disposal volume was reduced to 0.05 tons in 2020, accounting for 0.004% of the waste generated. Zero emission*2 was therefore achieved. We will continue with our efforts to reduce waste.
Changes in waste volume and final landfill disposal rate*1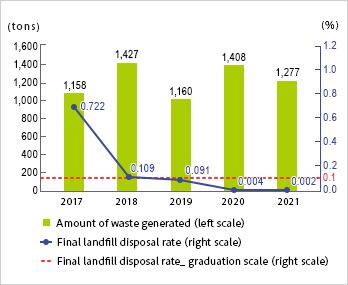 Overall flow of waste recycling and disposal (FY 2020)*1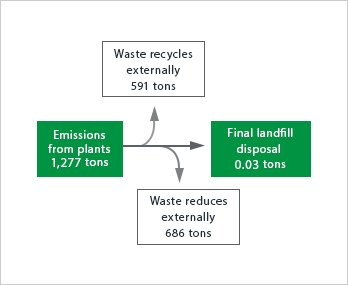 *1:

The plants and research laboratories of Kyowa Kirin Group in Japan are covered. We have disclosed the data of Kyowa Iryo Kaihatsu Co., Ltd. since 2019.

*2:

"Zero emission" : Kyowa Kirin Group uses the term to mean a reduction in the amount of waste disposed in landfills to no more than 0.1% of generated waste.
Proper Treatment of Polychlorinated Biphenyls (PCBs)
With regard to the proper disposal of PCBs, condensers, transformers, circuit breakers, and lighting ballasts used in the past are locked and stored in warehouses that prevent underground seepage in accordance with the specially controlled industrial waste management standards, and are disposed of sequentially in order to complete the disposal within the time limit in accordance with laws and regulations.
You can see this table by scrolling horizontally.
Treatment of PCBs

| | |
| --- | --- |
| Capacitor/transformer/circuit breaker | 0 unit |
| Lighting ballast | 759 units |
| Oil containing low-concentration PCBs | 0 L |
(Stored amount as of end of December 2020)
Initiatives to Reduce Chemical Emissions
Initiatives to Reduce VOC Emissions and PRTR Substances Emissions
In efforts to reduce emissions of chemical substances, Kyowa Kirin Group and Kyowa Hakko Bio Group upheld the target of reducing the discharge of volatile organic compounds (VOCs) by half in 2020 compared to the 2003 levels*1, as VOCs account for most of the chemical substances discharged by our Group.
As a result, in 2020, VOC emissions across Kyowa Kirin Group and Kyowa Hakko Bio Group in Japan decreased to 242 tons, down 23% from 314 tons in the previous year. This was a decrease of 74% from the 2003 level, and we have continuously achieved our target of 50% reduction since fiscal 2019. We will continue with our efforts to modify our production processes to eliminate the use of VOCs and, when installing new facilities using VOCs, to concurrently install highly efficient VOC removal facilities.
Changes in VOC emissions*1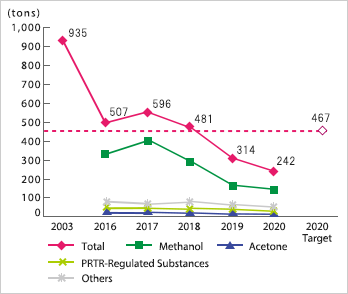 Breakdown of VOC emissions (2020)*1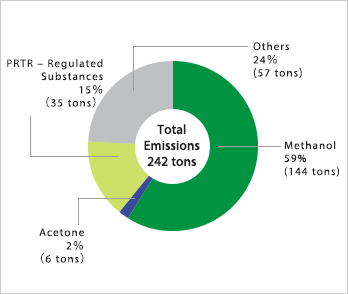 The total emission of Class I designated chemical substances of the entire Kyowa Kirin Group in Japan in fiscal 2020 under the PRTR Act was 0.03 tons (0.02 tons in the previous year), which remains at a low level.
*1:

In Japan, the plants and research laboratories of Kyowa Kirin Group and Kyowa Hakko Bio Group are covered. We have disclosed the data of Kyowa Iryo Kaihatsu Co., Ltd. since 2019.
Initiatives to Prevent Air Pollution
Kyowa Kirin Group is taking rigorous measures to switch fuel sources for boilers and make capital investments to maintain emissions of sulfur oxides (SOx), nitrogen oxides (NOx) and dust, which are indices of air pollution, at low levels.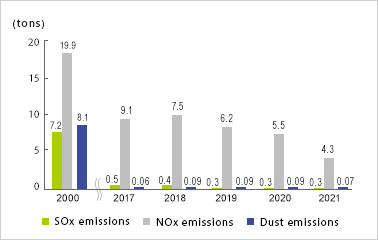 *1:

In Japan, the plants and research laboratories of Kyowa Kirin Group are covered. We have disclosed the data of Kyowa Iryo Kaihatsu Co., Ltd. since 2019.
Initiatives for Biodiversity Preservation
Activities to Preserve Water-source
Preserving the water resources that sustain the interconnection of lives helps maintain the ecosystem and preserve biodiversity.
As part of its activities to conserve the ecosystem and biodiversity, Kyowa Kirin Group has been endeavoring to preserve water by engaging in the Kirin Group's water-source preservation project since fiscal 2007. The Takasaki Plant, the mainstay plant for pharmaceuticals, and the Ube Plant perform weeding and tree thinning every year in an effort to preserve forests that provide water resources. These activities were scheduled for fiscal 2020 as well but they were cancelled to prevent COVID-19 infection. We intend to continue these activities in 2021 and beyond.
The Takasaki Plant entered into a three-party agreement with Gunma Prefecture and Kurabuchi Furusato Public Corporation, under which it has been engaging in the Kyowa Kirin Takasaki Water Source Forest Conservation Activities. In addition, our activities for over 10 years was recognized as the efforts to preserve and nurture green forests in Gunma Prefecture. As a result, Kyowa Kirin received the Gunma Prefecture Environmental Award (Environmental Achievement Award) in 2018.
News release: Kyowa Hakko Kirin Takasaki Plant receives the Gunma Prefecture Environmental Prize (Environmental Achievement Award) (in Japanese only)

Activities to Preserve Biodiversity
Kyowa Kirin Group has been engaged in a variety of activities through its respective business sites to preserve the ecosystem in collaboration with local communities. Specific examples include cleaning the local river (Kise River, Shizuoka Prefecture; Sakai River, Tokyo), releasing young amago trout into a river (Momozawa River, Shizuoka Prefecture), and preserving grasslands (Akiyoshidai, Yamaguchi Prefecture). The fuji site has been cleaning up the nearby Kise River through Shizuoka Prefecture's River Friendship Program in collaboration with Numazu civil engineering office and Nagaizumi Town. The Tokyo Research Park has been participating in its local Sakai River cleaning program as a co-sponsor as part of its efforts to help solve the issue of plastic waste under the Kirin Group Plastic Policy. Although some of our activities were restricted in fiscal 2020 due to COVID-19, we will continue to foster local communities and raise awareness of beautification and conservation of the natural environment through these activities.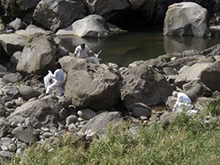 We comply with the Kirin Group's Guidelines on Access to Genetic Resources in gaining access to raw materials and specimens and sharing the benefits arising out of their use with local communities that provide them.
Furthermore, to comply with the Act on the Conservation and Sustainable Use of Biological Diversity through Regulations on the Use of Living Modified Organisms (Cartagena Act), we have put in place an internal committee to conduct proper management.
Activities to Protect Forests
Kyowa Kirin Group uses FSC®-certified paper* for company envelopes, company brochures and product packaging cardboard boxes. By using FSC®-certified paper, we contribute to maintaining sound business operations of the world's forests and contribute to reducing the impact on biodiversity. In the future, we plan to continue to consider the use of FSC®-certified paper for product inner boxes, etc.
*:

FSC® (Forest Stewardship Council®)-certified paper is certified based on FSC standards and is sourced from responsibly sourced materials such as timber produced in an environmentally appropriate, socially beneficial, and economically viable manner and other low-risk and well-managed materials.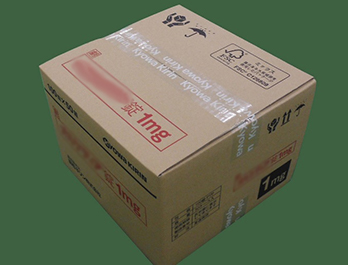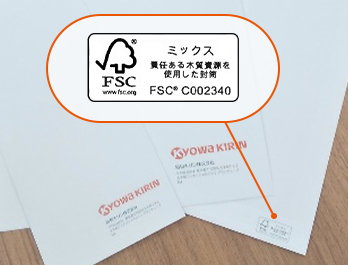 Kyowa Kirin has acquired FSC® promotion license (FSC® N003037).