Materiality and SDGs
Kyowa Kirin Group's Management Philosophy and CSV Management
In its management philosophy, the Kyowa Kirin Group upholds the principle of striving to create new value by capitalizing on its strengths in life sciences and technologies with the aim of contributing to the health and well-being of people around the world. By "new value," we mean value that can be shared by society at large. In other words, we focus on "Creating Shared Value (CSV)." Our Group practices CSV management aimed at realizing improved corporate value through the creation of both social and economic value.
Materiality
In practicing its CSV management, the Kyowa Kirin Group identified priority issues that the Group needs to address ("materiality") in light of their impacts on social sustainability as well as the Group's business. Materiality is also factored into our FY2021-2025 Mid-term Business Plan.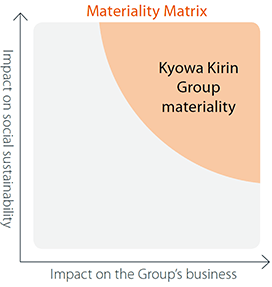 Identification/Implementation Process of Materiality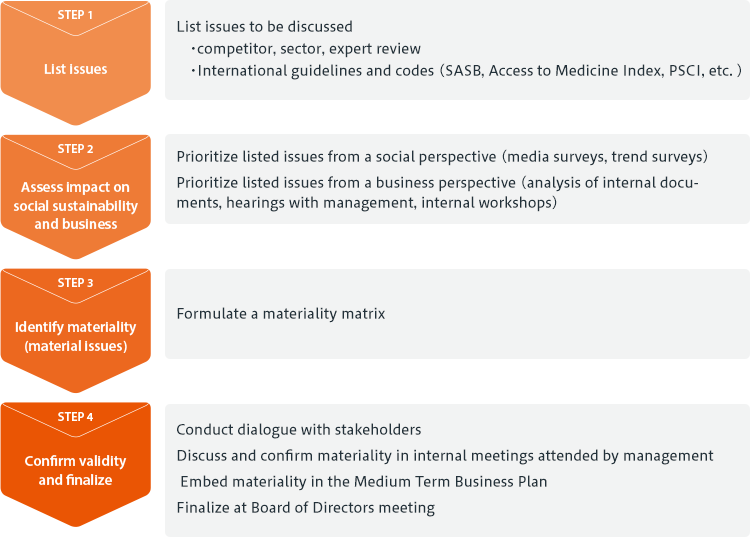 Materiality and SDGs
The Kyowa Kirin Group endeavors to be conscientious about society's expectations to the Group by constantly referring to the SDGs and other international frameworks for addressing social issues.
The materiality, which we identified by way of reflecting the needs of society, is factored into our mid-term business plan and cascaded down to specific actions in each organization's single-year plan. The progress of such business plan is closely monitored on a quarterly basis and reported to the Board of Directors.
Our way of making contribution to the SDGs will be subject to change, depending upon how our business evolves for the future. Nevertheless, we are aiming to play a greater role for the attainment of the SDGs through accelerating and expanding our business operations.
-

Each SDG is tied to the most relevant materiality. However, in actual practice, other materiality are tackled at the same time in a cross-sectional and overlapping manner.
You can see this table by scrolling horizontally.
Materiality
Related SDGs
Initiatives

Growth opportunities
~Make as many people as possible smile~

Continuous innovation
Patient advocacy
Access to medicine

Growth foundations
~Foster even greater trust in Kyowa Kirin~

Corporate governance
Quality assurance and a stable supply of products
Ensuring patient safety and appropriate use of medicines
Supply chain management
Legal compliance and ethical business practices

Responsible marketing and advertising
Responsible research and development
Proper use of products
Tax compliance
Anti-bribery and corruption
Privacy and information security

Anti-counterfeiting
Reinforce risk management
Respecting human rights
Transparency and disclosure; engagement

Organizational culture and talent
~Create a unified team brimming with diversity~

Diversity, equity and inclusion
Occupational health and safety
Employee development and provide opportunities for employees to grow

Social foundations
~Ensure a thriving global environment for future generations~

Climate change mitigation and adaptation
Biodiversity
Reducing environmental impact

Reducing pollution
Waste and resource use

Water resources management
Philanthropic activities (advancement of medical)
Kirin Group's CSV Commitment
The Kirin Group, to which the Kyowa Kirin Group belongs, upholds the goal of becoming a global leader in CSV by creating value across its world of food to pharmaceuticals. To this end, the Kirin Group formulated the Kirin Group CSV Purpose, with reference to the SDGs, as guidelines for creating shared value with society and achieving sustainable growth. The Kirin Group positions the Kirin Group CSV Commitment as an action plan to fulfill these guidelines. The CSV Commitment regarding health and the environment, specifically, "Provide pharmaceuticals for Unmet Medical Needs," "Sustainable use of biological resources," "Sustainable use of water resources," and "Overcoming climate change,"are upheld as the Kyowa Kirin Group's important CSV management goals.
Kirin Holdings Our CSV Commitment

The United Nations Global Compact and the Kirin Group
The Kirin Group, to which our Group belongs, has announced participation in the United Nations Global Compact since September 2005. As a member of the Kirin Group, we observe the 10 principles of the United Nations Global Compact, which address human rights, labor, the environment, and anticorruption, and are advancing initiatives targeting the realization of sustainability for society and companies.
The GC and the Kirin Group