Reinforce risk management
Policies and Strategies
To earn the trust of its customers and society, the Kyowa Kirin Group identifies and responds appropriately to the various risks that arise in conducting its business activities.
Kyowa Kirin Group Risk Management Policy
Established on January 1, 2016
Revised on January 1, 2021
1.

The Kyowa Kirin Group (hereafter referred to as "Our Group") recognize that achievement of management objectives can maintain sustainable growth and create mid to long-term corporate values underpinned by our management philosophy and core values. We implement risk management to achieve the objectives.

2.

Our Group define risk as effect of uncertainty on management objectives, including opportunity and threat.

3.

Our Group develop forward-looking risk management system to manage risks proactively under the responsibility of line management.

4.

Our Group is a resilient organization against crisis through an integrated approach including prevention, preparation, early detection and prompt response.

5.

Our Group define crisis as an event which obstruct the achievement of management objectives, have huge impacts and require immediate responses.

6.

Our Group prioritize life and health during a crisis. Then we take prompt and relevant actions to minimize effect of the crisis and return to normal operation quickly and properly.

7.

Our Group periodically review status of our risks and treatment and report to the Board of Directors of Kyowa Kirin Co., Ltd.
Governance and Specific Initiatives
Risk Management System and Initiatives
In the Kyowa Kirin Group, business functions identify risks based on changes in internal and external environments and analyze the degree of impact of identified risks on management and the likelihood of their occurrence. After discussing and adjusting the analysis results while conversing with business functions concerning internal and external environmental changes and risk trends, the CSR Committee secretariat organizes and assesses risks by category, and identifies the principal risks. In addition to deliberating on the appropriateness of identifying principal risks, the CSR Committee monitors measures aimed at mitigating risks as well as progress while organizing and supervising the risk management of business functions. Moreover, the Group CSR Committee meets twice a year to deliberate on the Group's overall risk management strategy and action plan and monitors the status of activities during the year. Details of principal risk mitigation measures and the monitoring results discussed by the Committee are reported to the Board of Directors.
The Kyowa Kirin Group is also moving forward with the digitalization of the risk management system, having introduced an IT system for centrally managing the risks of the entire group in a database. After business functions register risk ledgers and incident information in the database, the information is shared using a workflow with divisions that support, advise, and monitor risks from specialized and company-wide risk standpoints. This enables visualization of critical risks on a risk map. In this way we are working to develop a mechanism that enables the effective and efficient monitoring of risks.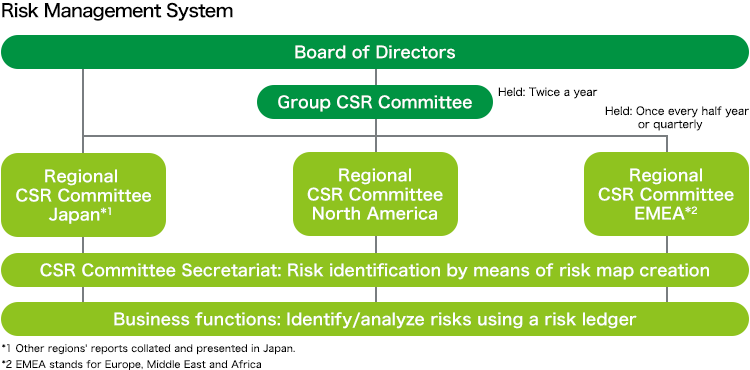 Crisis Management System and Initiatives
We define "crises" as situations that may have a profound impact on our business and require a rapid response among those that inhibit the achievement of our management goals. In addition, we define "crisis management" as activities that minimize the impact on our business when risks evolve into crises. In the Kyowa Kirin Group, crisis management is executed autonomously by area Crisis Management Team in three layers—global, regional, and local—and the Functional Crisis Management Team that responds using specialized expertise. In the event that a global response is required, each Crisis Management Team will work together to build a system to quickly reduce any impact.
In addition, we repeatedly conduct global Crisis・BCP exercises (cyberattacks, human rights violations, pandemics, natural disasters, stable supply, etc.), which connect each region, including Japan, with our global headquarters, and work to strengthen our crisis response and business continuity systems based on worst-case scenarios. Through these exercises, we improve our response capabilities, review our risk assessment and mitigation measures, and monitor to detect any signs of risk. In this way, we aim to create a resilient organization that is able to adapt flexibly to difficult situations.