Ethical Considerations in Research & Development
In the drug discovery research and development process, the significance of research utilizing human-derived samples is rising, requiring increased focus on ethical considerations. In addition to complying with relevant laws and regulations including the Pharmaceutical and Medical Device Act (former Pharmaceutical Affairs Act), the Kyowa Kirin Group conducts education and training for its employees and creates opportunities to acquire third-party certifications and undergo third-party reviews in order to protect human rights and personal information and ensure the reliability of its research findings in line with the ethical principles of the Declaration of Helsinki.
Major Initiatives
Cellular, microbial and chemical substances used in research and development are appropriately managed in compliance with relevant laws and regulations.
Animal breeding facilities and animal testing are appropriately maintained and managed in consideration of international standards on animal welfare.
Medical research on humans is reviewed from scientific and ethical viewpoints by a research ethical review committee that includes external members.
(Pursuant to relevant research ethics guidelines, information on research is disclosed here.)
Clinical research is conducted and managed in compliance with the Pharmaceutical and Medical Device Act (former Pharmaceutical Affairs Act), Good Clinical Practice (GCP: standard for conducting clinical trials on drugs), Good Post-marketing Study Practice (GPSP: standard for conducting post-marketing surveillance and tests on drugs), and Clinical Trials Act.
Management of animal breeding facilities and animal testing in consideration of international standards on animal welfare
Animal testing is essential to ascertain the efficacies and safety of pharmaceuticals. The Kyowa Kirin Group has established its Animal Testing Regulation in view of laws, regulations and guidelines pertaining to animal testing. Based on this set of rules, we implement a range of initiatives to ensure that the breeding management of laboratory animals and animal testing are properly conducted in consideration of animal welfare and scientific rationality.
Kyowa Kirin conducts proper animal testing and in-house inspection based on the Ministry of Health, Labour and Welfare's guidelines and international guidelines. Furthermore, in November 2013, the Association for Assessment and Accreditation of Laboratory Animal Care International (AAALAC International), a global third-party accreditation body, visited the Tokyo Research Park and Fuji Research Park to conduct surveys, and the two research sites obtained full certification in March 2014.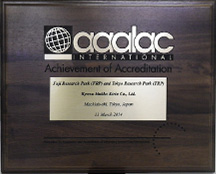 Initiatives to Prevent Misconduct in Research Activities
Kyowa Kirin have established a regulation pertaining to misconduct in research activities and a regulation for the management of public research expenses. The regulations are properly followed under the following governing structure.
Kyowa Kirin
Chief Management Officer: Executive Director of the Board, Executive Vice President
General Manager: Executive Officer, CSR Management Department
Compliance Manager: Vice President Head, R&D Division; Vice President Head, Production Division