This story is a reprint from Kyowa Kirin Annual Report 2021. Click here

to read more on Annual Report 2021.
Ensuring a stable supply of high-quality pharmaceuticals is paramount for a pharmaceutical company.
Achieving and maintaining this requires each function to perform its duties properly. It is also vital that each employee feels responsible for continuing to bring smiles to patients.
High-quality pharmaceuticals to the world
Kyowa Kirin has two key production bases, Takasaki City, Gunma Prefecture and Ube City, Yamaguchi Prefecture. The Takasaki area is primarily a base for biopharmaceuticals, and is home to the Bio Process Research and Development Laboratories, which develops production technologies and handles regulatory filings, and the Takasaki Plant, which manufactures and formulates bulk pharmaceuticals for investigational drugs and marketed products. Taking advantage of their geographical proximity, our teams work closely together. Such collaboration makes this location a world-class biopharmaceutical research and manufacturing base.
Bio Process Research and Development Laboratories
We support high-quality biopharmaceutical production technology through our biopharmaceuticals research in the areas of drug substance, formulation, and analysis.
In our active drug substance research, based on state-of-the-art process science, we apply genetic recombination technology to stably introduce genes that produce drug candidates into cells and establish methods for culturing and purifying the products. We then scale this up to produce drug substances with high levels of quality, safety, efficacy, and economy. With biopharmaceuticals, the higher the target protein secretion ability of the production cells used, the higher the productivity-and the greater the potential for reducing production costs. In this respect, Kyowa Kirin has world-class levels of productivity.
In our formulation research, we focus on drug substances that have been identified as drug candidates, formulating them so that they can be used safely by patients. We evaluate the stability of drug substances with various characteristics, conducting scale-up studies and other groundwork for formulation and commercialization. We are also developing new dosage forms for previously launched drugs to make them easier to use, such as pre-filled syringes for vials and automatic injection devices that eliminate the need for hospital visits.
In analytical research, we establish analytical methods for the characterization and stability testing of drug candidates. We then evaluate these methods to establish quality standards.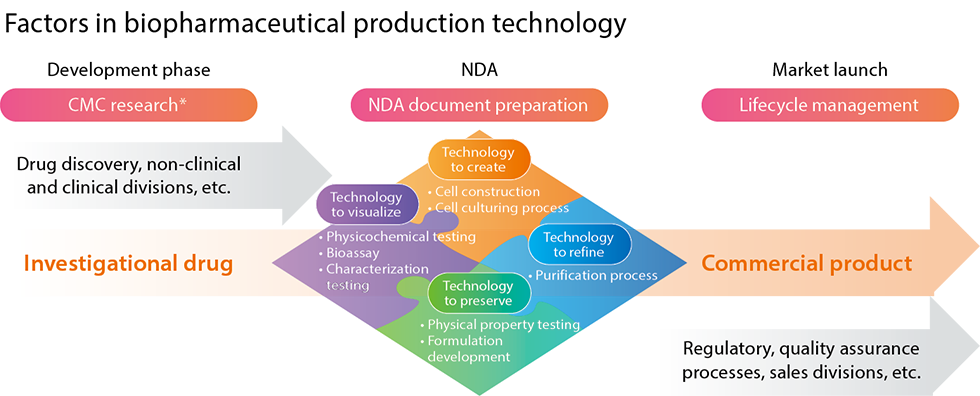 Takasaki Plant
Takasaki Plant is a state-of-the-art biopharmaceutical production plant with production lines both for investigational drugs and for launched products. It complies with the international standard Good Manufacturing Practice (GMP). Our manufacturing and quality functions work closely together to produce high-quality pharmaceutical products that customers can use with confidence. Our teams handle a wide range of verification work-from raw materials to manufacturing processes, testing and inspection, and final shipping decisions-before our products are sent around the world.
Drug substances for biopharmaceuticals are produced by mass cultivation of genetically engineered animal cells and microorganisms. The system for this process involves a large tank (reactor) with a capacity of 10,000 liters. However, maintaining productivity while scaling up from lab scale to large-scale production is not a simple matter. The Takasaki Plant has established a system that uses a large-scale commercial production process to ensure stable production and high productivity. This involves precise, smooth technology transfer in close cooperation with the adjacent Bio Process Research and Development Laboratories. Key to enabling this are our high level of experience, accumulated from the many biopharmaceuticals we have produced over the years, and the cutting-edge technological capabilities we have developed through that experience.
We are advancing several capital investment projects in the Takasaki area. The largest of these is the construction of a new seven-story building to accommodate our quality teams. The total investment of this project is expected to be \14 billion.
Previously, our quality control and quality assurance functions were dispersed throughout the Takasaki area. By gathering these teams together in the new building, we aim to improve operational efficiency and enhance communication, ensuring fast, accurate execution of operations. We will also introduce state-of-the-art analytical equipment with a view to addressing future regulation changes. This will help us to ensure a stable supply of high-quality biopharmaceuticals.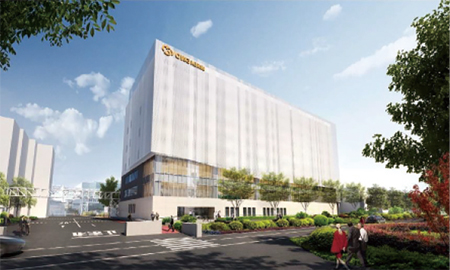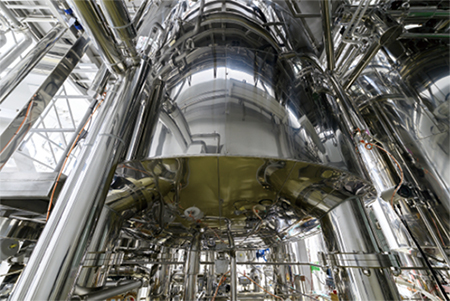 "The CMC Research Center is mainly responsible for a wide range of activities from early development to post-launch of small molecule drugs. These include formulation design, investigational drug manufacturing test method development, study of scale-up to commercial production, and technology transfer to manufacturing sites. I want to see new medicines delivered to patients as soon as possible. At the same time, I keep an equal focus on doing whatever I can now to help ensure a stable supply of safe, reliable, and high-quality medicines. Whenever I struggle with a decision, I think first about what is in the patient's best interest. I remind myself to smile for the sake of the patient's smile, and I carry out my duties with sincerity. "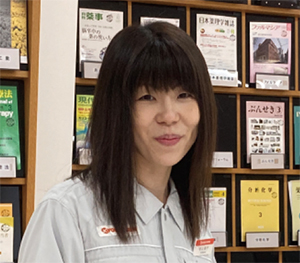 Supporting a stable supply with strong teamwork
The most important elements for ensuring a stable supply are stable plant operations and precise demand forecasting. As well as investments in IT and digital and in people development aimed at optimizing factory utilization, Kyowa Kirin is also focusing on supply chain management (SCM). The number of countries in which global strategic products such as Crysvita are sold is steadily increasing, and overseas sales are growing every year. This has led to a growth in the number of entities involved - from manufacturing sites to distribution centers and other outsourcing partners-which has increased the complexity of our supply chain. The SCM Function is responsible for accurately monitoring and controlling this complex situation. Their task is to ensure that Kyowa Kirin's pharmaceutical products reach the patients who need them, when they need them, and in precisely the quantity needed.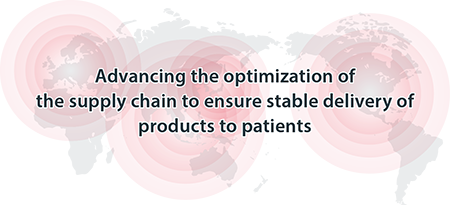 To optimize the supply chain, it is important to ensure that the IT and digital technology and organizational systems are in place, however, collaboration and teamwork with internal and external stakeholders are also critical. The SCM Function must control the supply-demand balance with a high degree of precision to ensure a stable supply. It does this by serving as a coordinator, building strong partnerships internally - particularly with the quality assurance, production, and sales functions and externally with contract manufacturers and logistics companies. At the same time, by further evolving S&OP* initiatives, the SCM Function helps to optimize inventory levels while supporting rapid decision-making by management. Furthermore, we are also discussing from a Business Continuity Plan (BCP) standpoint with the aim of maintaining a stable supply in the event of supply risks like the recent COVID-19 pandemic or a natural disaster. As part of this, we are considering dispersing our manufacturing and storage locations for global strategic products and other products over multiple sites.
*

Abbreviation for Sales and Operations Planning. A system that enables sales and production/operational divisions to confirm plans and results, both in quantitative and monetary terms. S&OP ensures alignment on the optimal plan for the company, increasing the accuracy and speed of decision making to support the achievement of the company's financial targets.
"As we grow in a fast paced environment, building internal team and personal development capabilities aligned with that of Kyowa Kirin's global outlook will continue to drive the value of our products, people and processes. Alongside the other regions, understanding how we can continually improve supply capabilities and expand into new territories are at the centre of daily activities. Bringing smiles to more patients across the globe. "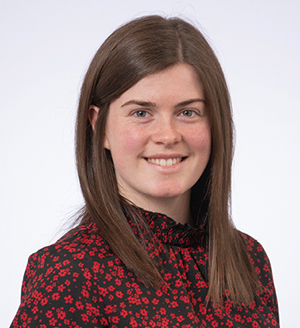 Building a world-class Quality Assurance (QA) system
Pharmaceuticals are products that directly affect human lives. At a pharmaceutical company, quality is the responsibility of each employee. Without robust quality and compliance, we cannot earn the trust of patients, healthcare professionals, or national regulatory authorities. Kyowa Kirin's Global QA Function is responsible for confirming that all processes involved in the production of products and investigational drugs are conducted properly and in compliance with relevant laws and regulations. In this way, the function fulfills its role of ensuring that there are no problems with the quality of the drugs delivered to patients.
We have been steadily strengthening our global quality assurance system since 2019, when we began globalizing our business in earnest with the launch of global strategic products in Europe and the United States. As part of this effort, we formulated the Kyowa Kirin Group Quality Policy and the Global Quality Roadmap to 2025. In one particularly important measure, we have adopted an enterprise/electronic quality management system (eQMS). This system is scheduled to be fully operational in 2022.
The scope of our quality assurance operations covers a wide range of areas, from deviation control, corrective action/preventive action (CAPA), and training to document management, auditing, supplier management, and change management. With the introduction of this system, we will switch from traditional paper-based operations to fully electronic processes. This will enable us to meet, to a globally consistent standard, the requirements of relevant laws and regulations in each country.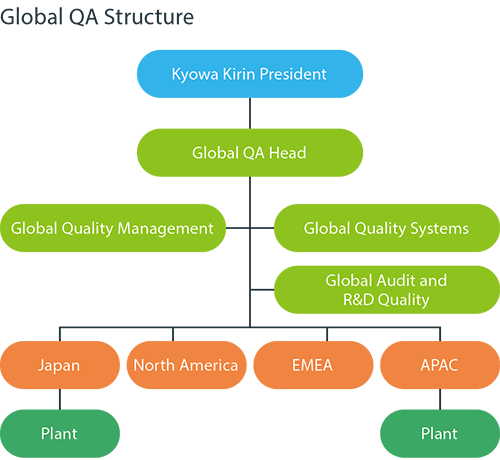 Until 2021, we focused on reinforcing our foundations as a global company. Going forward, we will carry out further operational improvements and training to foster a quality culture as we aim to build a world-class quality assurance system that will give us an edge over our competitors.
"Our mission is to assure that the medicines our patients rely on are safe and effective. Quality is at the heart of everything we do. This is what builds a lasting trust between the patient and Kyowa Kirin. Our medicines have a profound positive effect not just on the individual patient but also on their families' and friends' quality of life. This is what makes them smile which in turn makes me smile! "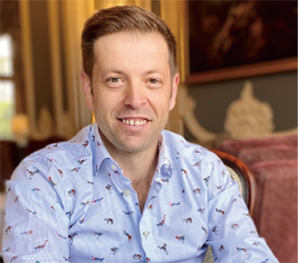 Annual Report 2021

Return to Stories