This story is a reprint from Kyowa Kirin Annual Report 2022. Click here

to read more on Annual Report 2022.
We believe that ensuring the stable supply of high-quality pharmaceuticals is vital for a pharmaceutical company.
Having the highest level of Quality and a Stable Supply of products are very important management imperatives, therefore, Kyowa Kirin is advancing various initiatives toward these priorities.
Capital investment in Takasaki Plant aimed at stable supply
Kyowa Kirin has two key production bases, in Takasaki City, Gunma Prefecture, and Ube City, Yamaguchi Prefecture. Primarily a base for biopharmaceuticals, the Takasaki area is home to the Bio Process Research and Development Laboratories, which develop production technologies and handle regulatory filings, and the Takasaki Plant, which manufactures and formulates bulk pharmaceuticals for investigational drugs and marketed products. Taking advantage of their geographical proximity, our teams work closely together. Such collaboration makes this location a world-class biopharmaceutical research and manufacturing base.
Q-TOWER completed
In 2022, the Q-TOWER that was being built at the Takasaki Plant was completed. The new Quality building is fully compliant with Japan, the United States, and European Good Manufacturing Practices (GMP). The Q-TOWER was newly constructed to carry out Quality operations relating to quality control and quality assurance, such as the testing of biopharmaceuticals and raw material quality analysis. This new quality building is equipped with the most advanced biopharmaceutical analysis equipment, including an automated colony counter, rapid microbial testing, and robot technology. As well as equipment to automate processes and reduce manpower, such as a liquid handling system and an automated sample picking system.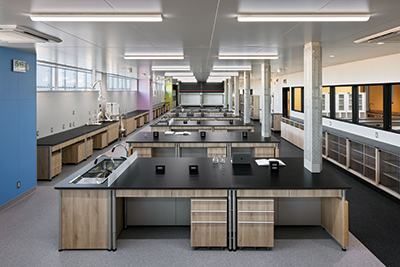 Also, a sterility testing isolator has been installed, helping create a laboratory that satisfies the latest global regulations. By having designed workspace areas with spatial continuity, we are providing an environment in which everyone can work healthily, creatively, and truly have an optimal workplace for fostering a positive culture.
Construction of a biopharmaceutical drug substance manufacturing building and new warehouse building planned
In 2022, the Company decided to construct a new biopharmaceutical drug substance manufacturing building and a new warehouse building at its Takasaki Plant.
Manufacturing biopharmaceutical drug substances for biopharmaceuticals utilizing Kyowa Kirin's unique antibody technology and protein engineering, the new HB7 Building will be equipped with both a GMP facility to manufacture biopharmaceutical drug substances for use in GMP-compliant clinical trials and a pilot facility for the scaled-up verification of manufacturing methods established in our laboratories. As both facilities have been designed to have the same single-use manufacturing equipment, and the same facility configuration can be used for everything, from the initial process development of biopharmaceutical drug substance manufacturing to the manufacturing of investigational biopharmaceutical drug substances, it will be possible to manufacture high-mix, small-lot products in early phase development more flexibly and quickly. Moreover, it is planned to use the pilot facility to verify the continuous production system, which is new technology for biopharmaceutical drug substances, as part of efforts to promote technological innovation directed at stable supply.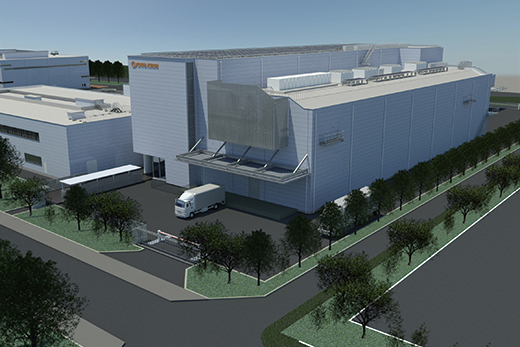 Rendering of the exterior of the new biopharmaceutical drug substance manufacturing building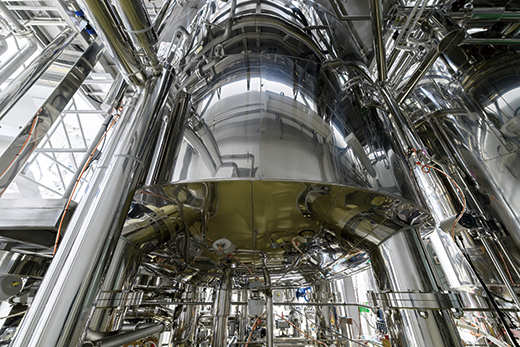 Biopharmaceutical drug substance production facilities
The new warehouse building will be constructed to accommodate the expanding supply of biopharmaceuticals (products and development). The regulatory authorities in various countries require that strict control measures be in place for the storage of pharmaceutical raw materials, biopharmaceutical drug substances, and formulations. For that reason, the new warehouse building will comply with the standards required by each regulatory authority and be capable of stably storing biopharmaceutical raw materials, biopharmaceutical drug substances, and formulations at room, cold or frozen temperatures. The building will also have a seismic isolation structure that will enable continuous product supply and the early resumption of production even in the event of a major disaster, such as an earthquake or flood. It is assumed that key facilities will be designed to protect them from any damage caused by flooding. In addition, the facility's environmental friendliness is being taken into consideration by installing a solar power generation system on the rooftop and actively adopting energy-efficient air conditioning equipment.
Building a world-class Quality Assurance (QA) system
Pharmaceuticals are products that directly affect human lives. At a pharmaceutical company, quality is the responsibility of every employee. Without robust quality and compliance, we cannot earn the trust of patients, healthcare professionals, national regulatory authorities nor that of society. Kyowa Kirin's Global QA Function confirms that various processes, including manufacturing and distribution, are conducted properly and in compliance with relevant laws and regulations. Our overall aim within the Global QA function is to always ensure the highest quality medicines are delivered to our patients that are in need.
Enterprise/Electronic Quality Management System (eQMS)
Since 2019, when globalization began in earnest, we have been formulating the Kyowa Kirin Group Quality Policy and the Global Quality Roadmap to 2025 while steadily strengthening our global QA system. In 2022, we completed the introduction of an enterprise/electronic quality management system (eQMS). By having introduced this system, which covers a wide range of quality assurance operations from deviation control, corrective action/preventive action (CAPA), training, document management, auditing, supplier management, and change management by means of a complete electronic process. We now have in place a platform that enables us to meet globally consistent standards as well as the requirements of relevant laws and regulations for each country and market we serve. Aiming to build a preventive quality management system using risk-based approaches that we can confidently claim to be world-class, we have set globally integrated KPIs. While monitoring operational status in real time, we will gather and analyze vast amounts of data collected as well as engage in continuous improvement of processes and the fostering of a quality culture routinely.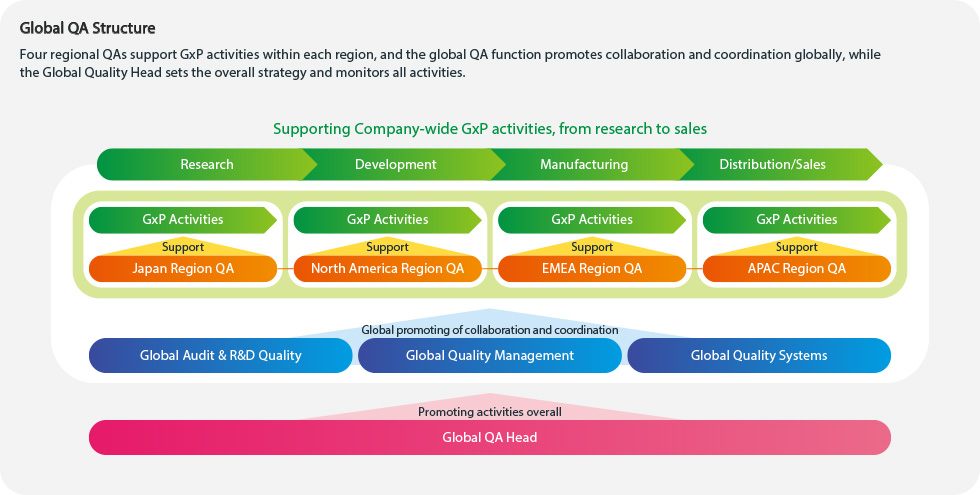 Supply Chain Management (SCM) and other initiatives
The number of countries in which global strategic products such as Crysvita are sold is steadily increasing, and the overseas revenue ratio, which was 48% in 2020, is expected to reach 64% in 2023. In accordance with this expansion, the supply chain related to manufacturing and distribution, including outsourcing, is becoming more and more complex, and Kyowa Kirin is focusing on its management.
Kyowa Kirin's SCM Function is responsible for accurately monitoring and controlling this complex situation so that our pharmaceutical products reach the patients who need them, when they need them, and in precisely the quantity needed. To control the supply-demand balance with a high degree of precision, the SCM Function serves as a coordinator, building strong partnerships internally in particular with the quality assurance, production, and sales functions as well as externally with contract manufacturing companies and logistics companies. At the same time, by further evolving S&OP* initiatives, the SCM Function helps to optimize inventory levels while supporting rapid decision-making by management.
Following the disruption caused by the COVID-19 pandemic that began in 2020, transportation risks arose in 2022 due to the Russia-Ukraine conflict, but Kyowa Kirin has continued to maintain stable supplies through SCM Function-centered cooperation and response. For the Company to keep this up going forward, in addition to early anomaly detection and continuous improvement through supply chain KPI monitoring, we are planning a raft of measures designed to maintain a stable supply. These measures include building and updating stable supply Business Continuity Plans (BCPs) and the dispersing of our storage locations for drug substances over multiple sites. We will also further expand measures to counter the problem of counterfeit drugs, which has become increasingly serious in recent years, and contribute to the creation of an environment in which patients can receive treatment with peace of mind.
*

Abbreviation for Sales and Operations Planning. A system that enables sales and production/operational divisions to confirm plans and results, both in quantitative and monetary terms. S&OP ensures alignment on the optimal plan for the Company, increasing the accuracy and speed of decision making to support the achievement of the Company's financial targets.
Annual Report 2022

Return to Stories